Coming up:
The Boca Raton Police Foundation has announced its partnership with Ring and the launching of a joint subsidy program that will provide discounts for verified City of Boca Raton residents who wish to purchase select home security devices.

The initiative aims to reduce crime in neighborhoods by investing in affordable and effective smart home security for residents.
The subsidy program kicks off with a launch event at the Boca Raton Downtown Library where eligible residents may attend in-person and participate in the program on a first-come, first-served basis.
WHEN: June 6, 2019 from 6 – 8PM
WHERE: Boca Raton Downtown Library – 400 NW 2nd Ave Boca Raton, FL 33432
WHAT: Launch Event
Register for the subsidy program (registrants must be City of Boca Raton residents with a valid form of ID & copy of a utility bill).
Learn more about Ring security devices, ask questions & purchase products on-site.
Purchase eligible devices and select accessories on-site. Please note on Credit or Debit cards will be accepted.
To learn more about the program, please visit our website at https://bocaratonpolicefoundation.org/boca-raton-police-foundation-and-ring-invite-residents-to-launch-event-for-subsidy-program/
Discovering AR/VR at FAU Tech Runway
Join South Florida Business and Wealth, FAU Tech Runway, FAU's Division of Research and Florida SBDC at FAU for an exclusive and experiential event 5:30 to 7:30 p.m. on June 6at FAU Tech Runway in Boca Raton.
Learn why industry leaders, investors and entrepreneurs are paying attention to this transformative technology. Hear from creative and technical experts who are changing the face of marketing, design and sales; overcoming complex challenges; bringing AR/VR into new industries; considering moral implications; and working on the cutting edge of AR/VR development.
Don't miss the opportunity to engage with interactive displays and learn more about the disruptive technology that could revolutionize business. Spaces are limited.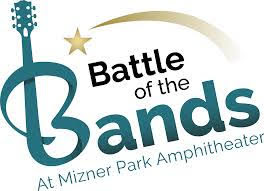 Kicking off the Summer Series, Mizner Park Amphitheater and The City of Boca Raton will host a Battle of the Bands on Friday, June 7th.  $1,500 cash grand prize for each category: Teen competition and 20+ competition
Finalists:
20+ Competition
The Cytokines
Coral Canyons
SpiderCherry
Del Pelson
Big City
Teen Competition
PEAR
Expressway to the Stars
Audio Crisis
Enjoy games, food, a live DJ, a Galaxy Bubble Party and much more at our free Summer Reading Kick-off Party from 10:00am-12:00pm! This year's theme is "A Universe of Stories." Bring the whole family to join the fun and help us launch our exciting annual Summer Reading program! No enrollment required.
Join the Y for our 3rd Annual Baila Conmigoevent – a festive celebration of Hispanic Heritage! Experience the beauty of the Hispanic culture through music, typical foods, dance, and art on June 8th from 5-9pmat the Peter Blum Family Y in Boca.
Everyone is invited to this FREE event, so bring your family and friends! We will have a Master Zumba Dance Party, live music, children's activities corner including bounce houses, pinatas, food trucks and MORE!
Exciting news:
The 2019 edition of the Cheribundi Boca Raton Bowlis moving to a new night and will be broadcast on a new network!  After spending five years on the Tuesday evening before Christmas and being aired on ESPN, this year the Cheribundi Boca Raton Bowl will kick off at 3:30PM on Saturday, December 21, and will be televised on ABC.
The game will, again be played on the Howard Schnellenberger Field FAU Stadium on the campus of Boca Raton campus of Florida Atlantic University. The game will also be broadcast on ESPN Radio.
"Cheribundi is proud to be back as the title sponsor and official muscle recovery drink for our third Cheribundi Boca Raton Bowl," said Cheribundi CEO Steve Pear.
This will be the sixth playing of the Bowl. The  five of the previous games were played on the Tuesday evening (immediately prior to Christmas).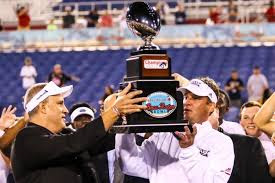 "This will be our first opportunity to play the Cheribundi Boca Raton Bowl under the beautiful Florida sunshine," said Doug Mosley, Cheribundi Boca Raton Bowl executive director. This year, 'Boca's biggest annual outdoor party' will be played in what promises to be a perfect south Florida afternoon.
The 2019 Cheribundi Boca Raton Bowl will select its two participating teams from its three partner conferences:  Conference USA, the Mid-American Conference and the American Athletic Conference. The bowl week activities will include beach parties, pep rallies, a kickoff luncheon, community outreach and other activities throughout Boca Raton and Palm Beach County.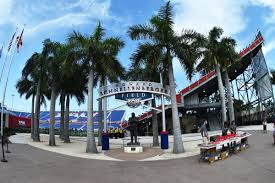 "We're eager to welcome a national network audience to Boca Raton for this year's game," said Boca Raton Mayor Scott Singer. "We look forward to showcasing our beautiful city on ABC and enjoy yet another successful Cheribundi Boca Raton Bowl."
"We are excited to kick off the holiday tourism season in Palm Beach County with the Cheribundi Boca Raton Bowl at FAU, in partnership with the City of Boca Raton and ESPN," said Verdenia Baker, Palm Beach County Administrator. "This is our opportunity to showcase the Palm Beaches as the 'Perfect Place' to experience our lifestyle sports destination."